When Choosing Cremation Urns, What Stands Out As Unique For You
There are thousands of cremation urns available today. Most of them are mass produced. A few are not. Let me show you a quick overview of what is out there.
First of all, cremation is what I have chosen as what I will have done when the time comes. So instead of investing in a casket, plot, and headstone, I want something unique for my remains to be contained.
I can look now and find what I want, so no one will have to do it for me later. Finding unique urns has taken some looking, and have found the same ones in many different places.
Lets start with what I thought were the most unique cremation Urns, and go down the line from there
Glass Blown Urns:
This is my number one choice. There are very artistic crafters who can make a one of a kind piece for your loved ones remains that not only hold the ashes, but is a work of art suitable to be displayed in a gallery. I searched for someone who knows how to make a high quality cremation urn, and cares about the people they serve. I found some mega sites that offered this service, but it seemed a little impersonal to shop for something this special where it felt like it was just a big store that was just looking to make a sale. The person I located is Mike, his work and personality stood out as someone who I would choose to make my urn. Look at Mikes page and the work that he does below. They are beautiful and are a memorial you can be proud to own and display.
Cremation Urns by Mike

Here is one of his cremation Urns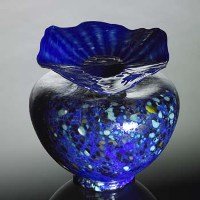 Cloisonne Urns:
This style of cremation urn was also at the top of the list because of several things.The craft uses wire casings on a ceramic piece to form a colorful and realistic design that creates a beautiful work of art. This technique has been around for centuries, and the enamel looks beautiful and shiny after being fired several times in a kiln. These urns also are art that can be a great piece to display and hold your loved ones remains.
Marble Urns:
A product of natures beauty, Marble Urns are made of a high quality material that is beautiful yet very durable. Marbles swirls and shapes have a unique look that draws attention. These urns can be produced in many colors to suit your personality.

Wood Urns:
Wood Urns are also high on my list because they can be made from almost any kind of wood, as well as in unlimited shapes, sizes, and styles. They are usually mass produced, but with some research, you can find crafters who still custom make them for you.
Ceramic Urns:
These somewhat fragile urns can be mass produced or made the old fashioned way on a potters wheel. This process involves hand decorating, then they are fired and glazed. This produces one of a kind piece that is still beautiful.
Bronze Urns:
Bronze and other metal urns are mass produced, and come in many styles and colors. I personally would not choose a metal urn because most of them will tarnish over time, and this requires cleaning and polishing of the urn. They still look good when new, but are not very unique
Art Urns:
This a somewhat broad term, but you can find companies, and individual artists who will sculpt a work of art with an area for remains. These are also found as mass produced items listed in different styles or categories.

Companion Urns:
This is a style of urn that is meant for two people who want to share the same urn, some come with two compartments, some do not
Keepsake Urns
These urns are a small urn that is meant to hold a small portion of ashes, for people who want several ways to have their loved ones close, or to share with others.
Funeral Urns
A funeral Urn is normally an urn that is used for display purposes at a funeral or memorial service. It can be of any material but is normally a manufactures glass or ceramic Urn,
Other Urns
Above is a condensed list of what can be found. There are many mass produced urns that follow a theme, such as: Military, Religious, sports, or even Hobbies. They are unique in they can help represent something important in your loved ones life.
And finally there are biodegradable and burial type urns to be interred.